Description
Important information
Safety Warning
Biological Laundry Gel. Warning. Causes serious eye irritation. Harmful to aquatic life with long lasting effects. Keep out of reach of children. If medical advice is needed, have product container or label at hand. IF IN EYES: Rinse cautiously with water for several minutes. Remove contact lenses, if present and easy to do. Continue rinsing. If eye irritation persists: Get medical advice/ attention. IF SWALLOWED: Call a POISON CENTER/ doctor if you feel unwell. Dispose of contents/ container according to local regulations.
Ariel gel provides you with cleaning even in a cold wash. With Ariel's washing gel, you no longer need to choose between cleaning and care. Unlike washing powder this concentrated detergent activates in cold water and dissolves rapidly even in a quick wash, removing stains and leaving your clothes clean and vibrant. Use together with Lenor fabric conditioners and Unstoppables, in wash scent booster, for an extra boost of softness and freshness. 24 washes based on 37 ml per wash.
Ingredients
15-30% Anionic Surfactants, 5-15% Non-Ionic Surfactants, Soap, <5% Phosphonates, Enzymes, Optical Brighteners, Benzisothiazolinone, Perfumes, Benzyl Salicylate, Citronellol, Eugenol, Geraniol, Linalool
Directions:  24 washes per pack based on 37ml per wash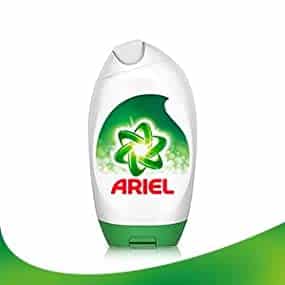 Brilliantly clean laundry even at low temperatures
Even the way you do laundry has become more efficient thanks to technology. Ariel Washing Gel cleans and gives you a brilliantly clean laundry with impeccable stain removal in just one wash at temperatures as low as 15 degrees Celsius. The bottle's design allows you to measure the correct dose of gel with precision; all it takes is a little squeeze. And, unlike other brands, Ariel Gel dissolves at the heart of your wash for an even greater cleaning performance. Ariel Washing Gel is available in Regular for removing stains without using bleach; Colour & Style for keeping colours vibrant; with a touch of Febreze for long-lasting beautiful freshness; and Alpine to leave clothes feeling gentle on the your skin. Use with Lenor fabric conditioners for impeccably clean and fresh laundry results.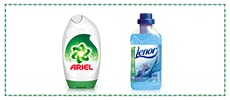 Enhance your laundry routine with Lenor
For impeccably clean and irresistibly fresh Ariel laundry results, use Ariel Washing Gel together with Lenor fabric conditioner. Be sure to use the recommended amounts, and remember to add the fabric conditioner to your washer's designated compartment.
Ariel Attributes: Washing Gel
Outstanding stain removal in the first wash

Do more work in less time when you use Ariel Washing Gel. Its concentrated formula removes stains on the first wash, so you can save time and energy.

Cleans brilliantly even at lower temperatures

Excellent results at 15 degrees Celsius as well as at 40 degrees Celsius. Ideal for both the environment and your budget.

Concentrated power for a concentrated clean

Ariel Washing Gel gives you concentrated power and brilliantly clean results with the same wash load as Ariel Washing Liquid, just in a smaller bottle.

Easy and convenient to use

The gel's bottle design allows for easy dosage and precision. Just squeeze into the bottle's included cap and place it into the laundry drum, directly on top of your laundry.
| | | | | |
| --- | --- | --- | --- | --- |
| | Gel | 3in1 PODS | Liquid | Powder |
| Product Claim | Brilliant cleaning at temperatures as low as 15 degrees Celsius | Best Liquitabs on Tough Stains* *July 2015. Laundry detergents test. Keep out of reach of children. | Pre-treat cap: helps up to 95 per cent stain removal in the first wash* *results may vary by fabric and stain pre-treated No 40 degrees Celsius, medium water hardness | Ariel Regular Washing Powder gives you brilliant results even under tough conditions |
| Available as | Regular, Colour & Style, with Febreze | Regular, Colour & Style, with Febreze, Fresh Sensation | Regular, Colour & Style, with Febreze | Regular, Colour & Style, with Febreze |
| Pre-treats stains | | | ✓ | |
| Lifts stains and brightens | ✓ | ✓ | ✓ | ✓ |
| Removes stains even in cold water | ✓ | ✓ | ✓ | |
| Dosing | Easy to dose thanks to dosing cap | Unit dosing for easy dosing | Easy to dose thanks to dosing cap | Traditional dosing with measuring cup |
| High convenience | | ✓ | | |
| Concentrate and easy to store | ✓ | ✓ | | |
| Great, especially for whites | ✓ | ✓ | | ✓ |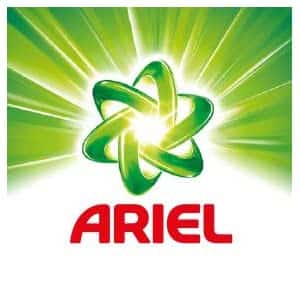 Laundry tips and advice from Ariel
Will washing on a low temperature setting still get my laundry clean?
Two of the best reasons to wash your clothes at low temperatures are the environment and your budget. By washing at a lower temperature, you'll use less energy and save money on your energy bill. Modern laundry detergents like Ariel are designed to clean brilliantly at low temperatures. Ariel Liquid Detergent has cold-water enzymes that help to clean and break down stains even at 30 degrees Celsius.
What can I do to reduce fading?
The first and easiest way to reduce fading is to read the care label and follow the instructions. Don't wash your clothes in water hotter than recommended. Also, try using Ariel Colour & Style. It provides outstanding cleaning, doesn't contain any bleach, and has been designed specifically to help maintain the colour of your clothes.
How could I keep my clothes smelling fresh?
Ariel Washing Gel with Febreze has perfume ingredients that are "attracted" to clothes. They release their beautiful fragrance over time so your clothes smell fresher longer.
How can I stop my whites from turning grey?
To keep your whites looking bright for longer, wash them with other white clothing. When you wash your whites with other colours, they can often lose their whiteness and brightness and become grey.
How can I stop bacteria build up in my laundry?
Protecting your clothes from bacteria will help them last longer. Here are a few simple ways to do it: Be sure to never put damp clothing in your laundry basket. Take clean laundry out of the washing machine as soon as the cycle finishes. After finishing a load of laundry, be sure to leave the detergent dispenser drawer and washing machine door open. Every once in a while, it's a good idea to run your washing machine at 60 degrees Celsius with nothing in it. Be sure to wash your hands thoroughly after sorting your laundry, and before hanging it up.