Description
What is InfaCare Baby Bath?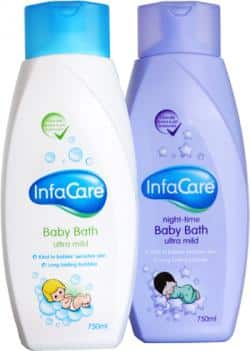 Introduce InfaCare to your baby's bath time routine.
Recommended by hospital midwives and healthcare professionals alike, our clinically tested products cleanse and protect your child's skin.
Already a family favourite, our ultra-mild Baby Bath is now supplemented by an evening equivalent ­ this the all new InfaCare Night-time Baby Bath.
Both formulas are clinically tested and Ph balanced, creating natural levels of Acidity and Alkalinity in skin and hair. Reassuringly, each is designed to prevent irritation, helping with allergies in the process.
Recently launched, Night-time Baby Bath is now championed by mums across the country; up to 70% hailing it 'ideal' for their bedtime procedure.
Not only does it look great the product performs too. You don't need much for it to produce masses of long-lasting bubbles, perfect for your little one to have fun with.
A gentle, powdery and oriental fragrance is sure to relax, easing your tots first into bed and then off to sleep.