Description
Available in different scents, each Lenor Unstoppables fragrance provides an In-wash scent boost that injects freshness into every wash. A fragrance that lasts, Lenor Unstoppables keeps up to 12 weeks with boosted freshness (in storage), so your clothes are always ready to wear, infused with your favourite scent. Lenor's scent experts recommend Unstoppables Fresh If you are looking for a sparkling citrus and juicy fruits scents wrapped into a transparent floral notes. For an optimal use, Lenor Unstoppables should be added into the empty drum before every wash; then add clothes, detergent, fabric conditioner, your usual laundry routine.
Ingredients
Benzyl Salicylate, Citronellol, Eugenol, Hexyl Cinnamal, Limonene
Directions
Lenor Unstoppables go directly into the washing machine to give a fresh scent boost. Shake a little or a lot into the cap. Throw into the drum at the beginning of the wash. Enjoy a long-lasting fresh scent!
Safety Warning
Keep out of reach of children. If in eyes: Rinse cautiously with water for several minutes. Remove contact lenses, if present and easy to do. Continue rinsing. If swallowed: Immediately call a poison centre/doctor. May produce an allergic reaction. Harmful to aquatic life with long lasting effects. Dispose of contents/container to an appropriate local waste system.
---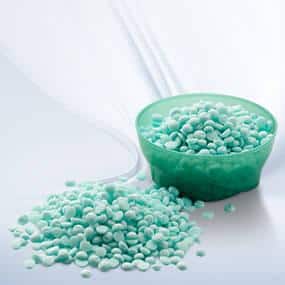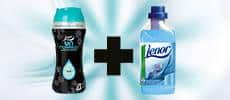 Mix and Match
Lenor Unstoppables come in a range of fragrances that you can mix and match with Lenor fabric conditioners to create scents that suit your style and mood.
What makes Lenor Unstoppables different?
Lenor Unstoppables are solid beads that combine scent-boosting and Perfume Micro Capsule technology to infuse your fabrics with freshness for week after week of great smelling laundry.
Three steps to 12 weeks of freshness:
Step one: Shake it

Shake as much Lenor Unstoppable as you like into your washing machine drum before you add your washing.

Step two: Pour it

Next, add your Lenor fabric conditioner and Ariel washing liquid as usual. Your Lenor fabric conditioner will work hard to soften your clothes while Lenor Unstoppables infuses its beautiful, long-lasting scent.

Step three: Enjoy it

That's all you need to do to get laundry with boosted freshness that you can enjoy for up to 12 weeks*.

*in storage
| | | | | | |
| --- | --- | --- | --- | --- | --- |
| | Unstoppables Bliss | Unstoppables Lavish | Unstoppables Fresh | Unstoppables Spring | Unstoppables Uplift |
| Each Lenor Unstoppable has its own special scent: | A floral and fruity blend of jasmine and red berries with a delicate touch of peach | A rich peach scent infused with creamy vanilla enhanced by top notes of luxurious caramel and sensual red rose | The scent of an ocean spray invigorated with green citrus aroma and sweet soapy notes | This scent will add a luxurious level of rejuvenating sun-kissed glory to every load of your laundry | A refreshing calm, soft and enduring as spring's first rain. A blend of earthy florals and rich vanilla undertones. |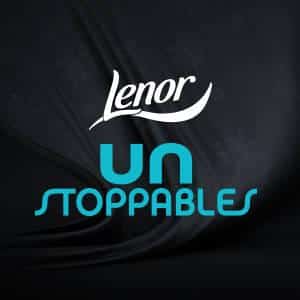 Up to 12 weeks of boosted freshness*
Since Lenor launched their first fabric softener in 1963, they've believed a long-lasting, fabulous fragrance is as important as keeping your clothes looking newer for longer. It's a representation of how you feel and who you are, whether relaxed and mellow or refreshed and invigorated. That's why they've worked hard to create a range of fragrances that will appeal to every mood and keep your laundry smelling amazing wash after wash. Lenor believes pleasure can be found in the smallest moments, like when you pull on a super soft jumper that smells spectacular. That's what drives them to keep on innovating year after year.