Description
Viakal removes tough water spots and dissolves limescale. its formula helps to eliminate water spots, prevents limestone from forming and respects your surfaces.Ideal for surfaces exposed to water in the bathroom or kitchen. For A shiny clean, use Viakal Anti-Limescale every day.
From the manufacturer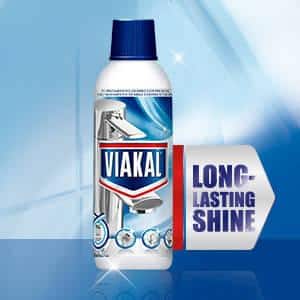 Treat & prevent limescale build-up with Viakal liquid
Viakal descaler helps effectively remove the build-up of limescale deposits, leaving surfaces shiny and watermark-free. Viakal liquid is ideal for large surfaces, not only removing limescale but also creating a barrier to prevent watermarks from returning, even in very hard water areas. Its formula respects surfaces, so it can be used as a kitchen or bathroom cleaner for a variety of spaces exposed to water. From faucets to tiles, Viakal provides effective limescale removal for long-lasting shine.

Viakal spray

Viakal liquid
Effectively Removes Limescale Deposits

Gently removes even the tough limescale build-up. See the Frequently Asked Questions below for more cleaning tips.

Prevents Limescale Build-Up

When used as a daily treatment, it helps prevent future deposits from forming by creating an anti-limescale film for clean, shiny surfaces.

Designed for Multi-Surface Use for a Shine that Lasts Longer

Deeply cleans shower walls, taps, glass doors, washbasins, bathtubs, chrome, stainless steel, ceramic sinks and other surfaces in bathrooms and kitchens exposed to water. Leaving it free from hard watermarks and with a shine that lasts longer.
| | | |
| --- | --- | --- |
| | Regular | Ultra |
| Benefit | Viakal removes and prevents limescale build-up, while making surfaces shine. | Deep cleaning and limescale removal. Helps remove bacteria |
| Available as | Spray, Liquid | Spray, Liquid |
| Removes limescale | ✓ | ✓ |
| Prevents build-up | ✓ | ✓ |
| For multi-surface use, perfect for use as a kitchen cleaner or bathroom cleaner | ✓ | ✓ |
| Scents and added benefits | Original Viakal for a fresh and clean home | Helps remove bacteria |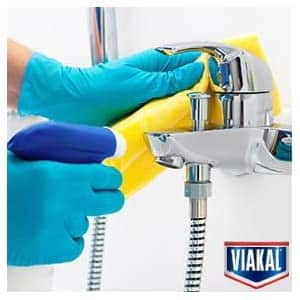 Cleaning Tips/FAQs
Where is it safe to use Viakal?
As a bathroom and kitchen cleaner, Viakal is designed for cleaning shower walls, taps, glass doors, washbasins, bathtubs, toilets, chrome, stainless steel and ceramic sinks. It safely removes hard watermarks without harming the surface.
How do you use Viakal spray?
Spray the surface. For tough encrustations, leave for up to 5 minutes. Rinse well afterward. Repeat if necessary. Use Viakal spray regularly for shine that lasts.
Where should you not use Viakal limescale descaler?
It is not recommended to use Viakal on hot, damaged or acid sensitive surfaces (e.g., gold, silver, copper, aluminium), coloured or old/damaged enamel, household appliances (including water boilers), natural stone (e.g., marble, travertine). If in doubt, test first on a small, hidden area.